Table of Contents:
​
WND.com Articles - Archive Link:
http://www.wnd.com/author/whwall/?archive=true

WHY SECULAR FUNDIES CAN'T OVERTHROW AMERICA
http://www.wnd.com/2017/12/why-secular-fundies-cant-overthrow-America/

4 THINGS CAPITALISM IS NOT
http://www.wnd.com/2017/12/why-secular-fundies-cant-overthrow-America/

15 DEADLY LIES OF ABORTION PUSHERS
http://www.wnd.com/2017/11/15-deadly-lies-of-abortion-pushers/

ENTITLEMENT OR ENLIGHTENMENT: WHICH WILL IT BE?
http://www.wnd.com/2017/11/entitlement-or-enlightenment-which-will-it-be/

THE 4 BIGGEST MYTHS ABOUT SCIENCE
http://www.wnd.com/2017/10/the-4-biggest-myths-about-science/

3 PILLARS OF P.H.D.- PROGRESSIVE HATE DEMENTIA
http://www.wnd.com/2017/10/3-pillars-of-p-h-d-progressive-hate-dementia/

3 WAYS SOCIALISM HURTS PEOPLE
http://www.wnd.com/2017/10/3-ways-socialism-hurts-people/
​
OUR CONSTITUTION HAS SAFE SPACES - FOR FREEDOM
http://www.wnd.com/2017/09/our-constitution-has-safe-spaces-for-freedom/

Other Articles:
NFL Punts On Victim Mentality Cure
Kamikaze Media in Masochistic Shame-Spiral
Slaveholders and Socialists are Spiritual Twins
Capitalism Curbs Greed
Virtue is More to be Feared Than Vice
Socialism Expands Power Inequality
Profit is Spiritual (coming soon)

​
© Copyright 1997-2017. All Rights Reserved. WND.com.

OUR CONSTITUTION HAS SAFE SPACES -- FOR FREEDOM

Exclusive: William Hamnet Wall shames those who 'demand respect without earning it'
Published: 09/26/2017 at 7:19 PM

By William Hamnet Wall


On college campuses, "safe spaces" are not sanctuaries from hate, but shrines to intolerance. Violent pacifists claim to take the ethical high ground. Cop killers and angry looters see themselves as the new MLK, the conscience of society. From what cesspool does this cognitive dissonance spawn?

According to psychiatrist extraordinaire William Glasser, being irresponsible and not getting your needs met make you go crazy. In "Reality Therapy," he explains it simply, "People are not irresponsible because they are mentally ill. They are mentally ill because they are irresponsible." Who knew that hating your parents at age 40 while living in their basement, punching cops at protest rallies, smoking pot instead of going to work and not supporting your children actually cause mental illness? Dr. William Glasser, that's who.

There are no moral underachievers. Because virtue must precede greatness, deep respect from others is earned over time, not demanded in a mob protest. Zig Ziglar put it beautifully: "You have to be before you can do. You have to do before you can have." First comes inner peace, then comes world peace. In other words, Gandhi was moral before he led protests. Mother Teresa was a saint befores he fed lepers in squalid gutters of Calcutta. Protesting alone does not make you moral any more than wearing a button in court, "I'm innocent," obviates the need for a trial to determine your guilt. Snowflakes, are you listening? Protesting does not make you moral!

When are we immoral? The Bible calls it being double-minded, serving two masters. Others call it living a lie, actions and words not matching, or simply not having integrity. A few examples: a dictator who cares for the people, anti-American patriot, peace-loving jihadist, pro-abortion Catholic. These are real examples. They are no less absurd than pro-rape Baptist or pro-genocide Buddhist. Enter a dojo and introduce yourself as a seventh degree black belt novice. When the master smiles at you, he is not being kind. Novice is what you are. Black belt is a feeble attempt at demanding respect from others without earning it. Nowhere is double-mindedness respected except in the hearts and minds of sociopaths and narcissists.

Safe spaces are where crazy people go, walls padded with political correctness that sound-proof free speech from reaching your ears, a shrine with play-doh on the altar to occupy yourself with and soft music to clam the nerves, panic rooms for snowflakes shell-shocked by micro-aggressions on college campuses. Safe spaces have replaced the heroic American Revolution as a preferred redress for grievances. Looting, vandalism and "militant begging" for more government handouts have replaced night classes to improve skills, to become an entrepreneur, to increase earning potential. In other words, socialism has replaced free enterprise in the halls of academia and in the broken spirits of "learned helplessness," of victims-for-life snowflakes.

Deep-thinking historian Oswald Spengler said it best, "Politics destroys the money world." History repeats itself because character is not transferable. We can ride on the backs of our founding fathers, military heroes, spiritual leaders and economic visionaries only so far. At some point, citizens must make a choice. Do we want the safe spaces embedded inside our Constitution and Bill of Rights? Or do we want political correctness to take us under its protective wing of socialism and totalitarianism? If you're inclined to take door No. 2, remember these words: Those who would take your freedom to keep you safe, will take your safety to keep their power. This is the fate of a people who demand respect without earning it, people who are flattered by a government that wants to be their shepherd and caretaker.

From my ebook, "The Joy of Fracking – A Haiku Guide to Loving Earth, Freedom and Fossil Fuels":

"Tyranny is utopia for tyrants, a silk pillow on which the beneficiaries of coercive power rest their heads. Dictators and tyrants are billionaires, not because they create products people want to buy, but because they siphon off the fruits of people's labor for personal gain. … "If socialism worked, it wouldn't need capitalism to finance it. Politicians are corrupt if their personal wealth grows by peddling favors to unions or corporations. This swindle culminates in favorable legislation which benefits political cronies, but not taxpayers. Collusion between government, corrupt unions and unethical corporate bosses is called crony capitalism – the opposite of free markets. … "Without equal protection under the law, governments pillage taxpayers. Socialism is envy codified into law. Socialism, aristocratic class systems, monarchy, Shariah law, caste structures and discrimination within primitive tribes – all restrict upward mobility. When government decides, through subsidies, taxation and wealth redistribution, who will prosper and who must fail, that old plunder-to-get-wealth paradigm is revived."

​Which safe space will you be entering tonight?

William Hamnet Wall, an entrepreneur for 25 years and insurance agency owner, is a poet, prolific aphorist and playwright who writes about economic and religious freedoms. He is a screenwriter of "Love is the Greatest Superhero," and his current project, "Brother Vs. Brother – Co-Emperors of Rome," looking for a WGA agent. Visit www.WilliamHamnetWall.

© Copyright 1997-2017. All Rights Reserved. WND.com.

3 WAYS SOCIALISM HURTS PEOPLE

Exclusive: William Hamnet Wall says system actually requires 2 types of greed
By William Hamnet Wall

American Indians hallow the spirit of an animal before eating it. Socialists condemn wealth producers before consuming fruits of their labor. Here are three ways socialism hurts people:

1. It perverts charity

Socialism perverts the focus of charity from giving to receiving, from generosity to entitlement. It inverts the meaning of JFK's great quote to say: Ask not what you can do for your country; ask what your country can do for you.

​GIVING: Charity requires personal sacrifice. After donating blood, the receiver always has more, and the giver has less. Charity is a giver's triumph because it helps to transcend personal greed, and to bring proper perspective to money as only a means to a greater end. Charity also humanizes the less fortunate and blesses them during heartfelt rituals of generosity. By contrast, socialism measures its success by how much it takes from others. It requires sacrifice from others, while the government "giver" grows richer. For example, Castro in Cuba lived more lavishly than even the most decadent Roman emperor, and Chavez of Venezuela died a billionaire. The triumph of socialism is greater subjugation of humanity, until the many serve the will of the elites in power. Even in so-called European democratic socialist countries, citizens are increasingly powerless to stop reckless EU spending and to stem the tide of dangerous immigration policies of the apathetic ruling elite. This primacy of the State is the ultimate secular objective, and people are only interchangeable globs of grease for the gears of hegemony.

RECEIVING: The beauty of charity is that it dignifies the act of receiving. The saint is equally desperate to give as the leper is to receive. Both are enriched; both shed tears of gratitude. Who has not seen acts of charity, of unconditional love, that have not induced empathy? I have been touched at moments as a temporary coach at a food bank before leaving for North Dakota to be a frac hand.

Conversely, socialism in Venezuela, a country with immense natural resources, brings tears to the eyes of starving people for a much different reason. They are forced to scavenge for scraps of food from dumpsters to keep their families alive. Estimates of national average weight loss of the people are breathtaking, despite the personal well-being of their oil-rich socialist leader, Nicolas Maduro. Recent reports speak of the soul-numbing necessity of some citizens to prostitute their bodies to acquire food. Clearly, socialist leadership hurts people's souls as well.

In America, Little Sisters of the Poor were compelled, against their conscience, to comply with abortion mandates in Obamacare coverage for employees or suffer massive fines. Thankfully, the Supreme Court protected their sacred religious liberty and averted the gruesome spectacle of state-sponsored soul-rape of elderly nuns.

2. It promotes greed

When you think of greed, what comes to mind, capitalism or socialism? Does it take more greed to earn something or to take it?

Think of capitalism as a farmer's market: sowing, reaping and selling for a profit. Every free-market purchase requires a mutually beneficial transaction. Buyer and seller must agree on a price. In this way, an asking price that is too high, too greedy, will be rejected by the buyer. Any offer to buy that is too low will be rejected by the seller. In other words, the seller's greed and the buyer's greed are strictly held in check by capitalism. Capitalism curbs greed. It prevents greed from succeeding in the market place where open competition exists.

Conversely, think of socialism as the European cuckoo bird who, because it cannot build a nest itself, lays its single egg into that of the reed warbler, then leaves forever, forgoing all maternal duties. The host "mother" is unwittingly left to feed this humongous, gluttonous imposter whose egg hatches before the others. By mimicking the sound of a brood of warbler chicks, the cuckoo fledgling stimulates her into feeding its voracious appetite. This gives the cuckoo bird parasite enough strength to kill its "siblings" by evacuating all other eggs from the nest. In this way, it secures monopolistic control and redistributes resources to itself. Socialism is the cuckoo bird of society who, because it cannot produce products itself, usurps the nest of capitalism and wages of hardworking taxpayers by nationalizing whole industries or by controlling them through regulatory fiat and confiscatory taxation. All the while, socialist politicians mimic charitable concerns for the poor to stimulate taxpayers to subsidize their own downfall unknowingly.

Socialism is militant greed that takes by deception or by force what its zealots could not earn by any other means. Socialism requires two types of greed, wanting more for yourself than you have earned, and wanting less for others who have earned it.

3. It causes power inequality

Which is a greater danger to our freedom, income inequality or power inequality? Income inequality can be annoying if someone has more money in the bank than you do, owns the home you live in, or even the company you work for. True, sometimes a rich person is so abusive that it makes us move out of their house, or even change jobs. In either case, we retain our free will by virtue of mobility and freedom to choose. Nobel Prize winner Milton Freidman, in his book called "Free to Choose," says, "Freedom means diversity but also mobility. It preserves the opportunity for today's disadvantaged to become tomorrow's privileged. …" Power inequality is far more dangerous. Every violent crime against humanity directly involves power inequality: slavery, rape, incest, pedophilia, female genital mutilation, kidnapping, terrorism, caste systems, socialism, communism, dictatorship, theocracy. The list has a thousand more examples with one common denominator: power inequality. No wonder socialists avoid the topic, preferring to shift the focus to income inequality. For the record, income inequality also has many positives: Millions of workers are employed by large wealthy corporations; we buy products from affluent innovators; life-saving drugs require millions spent in research and development costs; national security is driven by technology patented by prosperous individuals, etc. The benefits could go on for 20 more pages. I remember telling a socialist coworker who asked me, almost rhetorically, "Isn't income inequality terrible?" I replied emphatically, "Every morning I kneel down and pray to God for more income inequality. It helps so many people."

Which are you? Are you the cuckoo bird, a socialist schemer, whose income grows only if more victims are created? Or are you an honest capitalist who is content to harvest in the fall only what you sow in the spring, using the content of your character to fertilize the rich soil of mutually beneficial transactions?


William Hamnet Wall has been an entrepreneur for 25 years, insurance agency owner, frac hand and truck driver. He is a poet, prolific aphorist and playwright who writes about economic and religious freedoms. Wall is a screenwriter of "Love is the Greatest Superhero," and his current project, "Brother Vs. Brother – Co-Emperors of Rome," looking for a WGA agent. Visit www.WilliamHamnetWall.com.
Copyright 2017 WND

-----------

NFL Punts On Victim Mentality Cure

By William Hamnet Wall

Being victimized is an event; victim mentality is a destiny. So long as the wound is kept open, victim status appears legitimate. Why is victim mentality so poisonous and disempowering to us? One simple reason: inner weakness requires external focus. As soon as this occurs, self-reliance, self-determination, and autonomy of will are hobbled and castrated. In simple terms, victim mentality shifts our inner power to an external source, be it a person, institution or idea. Let me give you a treat from the founder of Recovery Inc., neuropsychiatrist Dr. Abraham Low, M.D. On this topic, he explained,

"Once you think of yourself as being a victim, you will not try to seek help from your inner environment, from yourself."

One would think that Roger Goodell and the NFL would advise their owners, players, coaches and staff, warn them against the emasculating effects of victim mentality more vigorously than they do against drug use, bankruptcy or sleep deprivation. Why not educate them about proven, sound mental health practices, and good mental hygiene? Blaming external causation for inner weakness is the mantra of victim mentality. Why is this not posted on a large banner in every locker room?

In Reality Therapy, psychiatrist Dr. William Glasser, M.D. reveals how, as a new arrival in charge of a mental hospital for veterans, he dramatically shortens the recovery time to cure his mentally ill, heavily sedated, and dispirited patients.
In fact, he documents curing and discharging over two hundred patients within one year, including those formally in padded cells. This represents a rate of more than forty times faster than traditional methods, from twenty years or more to 6 months or less.

Trained in psychoanalysis, here are 2 principles he mentions in his book. I'll paraphrase:

1. Talk about your past to help overcome issues.

2. Delve into your unconscious feelings to get a new "insight" into what's wrong with you.

Does this sound familiar? Patriotic Americans apparently need psychoanalysis to overcome being heartless, sick and racist, according to Roger Goodell, those sanctimonious sermonettes from billionaire owners, a former great, now unemployed quarterback, and multi-millionaire players all blathering about starting a conversation. There's only one problem. Dr. Glasser found those techniques to be highly ineffectual. So, he invented Reality Therapy instead. His results above, at a detention center for prison-bound girls, and over forty more years of stunning success speak for themselves.

How did he do it? Here are 8 simple concepts:

1. He didn't see his patients as sick or irredeemable, only as severe cases of people not getting their needs met, as chronically being irresponsible.

2. Unlike a psychotherapist who sits aloofly behind his patient, who lies on a couch spilling his guts about past traumas, Dr. Glasser faced his patients. He made damn sure that they knew he cared about them personally and sincerely.

3. He refused to talk about the past, no matter how shocking. Only the here and now! He would ask about their goals. "How were you irresponsible today?" was a question often on his lips. In other words, how did you contravene your important and satisfying goals?

4. Inside the mental hospital, without any pressure whatsoever from him, he gave each veteran/patient a choice:

5. Stay in your padded cell as long as you like, and receive counseling about your goals, and ways to achieve them.

6. Do chores in a large open area to earn a little freedom from your cell. This area offered more fun activities, as you slowly get weaned off of your medicines. This area was purposefully located in full view by those choosing to stay in padded rooms.

7. Take on more responsibilities in the outside gardens, and thereby earn one day home with your family. Working outside was always an option.

8. Eventually, time at home grew more frequent until they were discharged from the mental hospital as sane and functional human beings, working toward their goals, free from medication, and getting their needs met.

Imagine if Dr. Glasser, M.D. was the NFL commissioner. Could he get those protests under control? Easily. He would do it in a way that owners, players, Mr. K., and fans would all reach for their core goals, and know that he cared about them deeply and individually. Shall I take a shot, and imagine how the late great Dr. William Glasser would pull it off? He would get them to discuss 3 topics.


What are their vitally important goals, and jugular needs?

Roger Goodell – make the NFL profitable. Push his personal liberal politics, while appearing to advocate for NFL's best interests.

Players – support their families, win championships, and conform to politically-correct-orthodoxy to get along.

Mr. K. - get hired as a quarterback in the NFL, and be regarded as a legitimate civil rights leader.

NFL Fans – watch football without having progressive, anti-military, anti-police, anti-America, and pro-victim mentality propaganda shoved down their throats by multi-millionaires/billionaires, phony, mansion-owning, narcissistic, wannabe-civil-rights-icons, football athletes, and business leaders.

How are each being irresponsible and hypocritical– acting against their own stated goals?

Roger Goodell – NFL ratings are tanking because he forbids kneeling for Christians like Tim Tebow, but allows it for anti-American, anti-cop sympathizers and protesters in NFL venues.

Players – to avoid backlash from left wing bullies in power, some are kneeling or locking arms against their conscience, betraying their hidden love for America and gratitude for her opportunities.

Mr. K - becoming so toxic and flame-throwing-hostile to the fan base and advertisers that he becomes virtually unemployable. He has thrown the acid of victim mentality into the faces of all within his reach, and blinded many innocent people, even youngsters in middle school who follow him like zombies.

NFL fans – many still support the NFL without any adjustments.


Cure for NFL-sanctioned victim mentality protests

Don't allow personal, political protests or advocacy on NFL time or in NFL venues or facilities. Period. Roger Goodell had it right with Tim Tebow, and with forbidding decals placed on NFL helmets commemorating the fallen police officers, real-life-heroes. Consistency breeds respect. It's difficult when your pet issue is disallowed. I understand. Set up a "safe space" in your mansion. Deal with it. In the words of Dr. Abraham Low, "Every act of self-control brings a measure of self-respect."

​


Kamikaze Media in Masochistic
​Shame-Spiral

By William Hamnet Wall
www.WilliamHamnetWall.com

Kamikaze pilots were young, inexperienced Japanese soldiers who volunteered to train as suicide bombers of American Navy vessels near the end of WWII. Accomplished pilots were forbidden to join this Special Attack Unit. This desperate scheme was disastrous and ineffectual for Japan. Nearly three thousand pilots were sacrificed. Self-destruction precedes, and only hastens total collapse!

My term kamikaze media refers to more than just reckless and dishonest "fake news". So-called mainstream news networks whose moral-implosions from toxic liberal bias are felt around the world, cable shows, and print media do low-level dirty work of smuggling propaganda into American households, schools and businesses for the Democrat Party, corporate donors, globalists, and pro-abortion-conglomerate-open-borders-overlords. Today, these journalistic street thugs don't hide or deny their hostility toward religious, pro-constitution, gun-owning white and black conservatives who look more to Jesus Christ as their moral arbiter than to Flavor Flav or Rosie O'Donnell. But the kamikaze media do vehemently deny being dishonest. There's an important reason for this. This article hopes to explain why these media desperately want you to know that deep-down, they are actually "honest" people.

Who can lie, mislead, extort, betray, deceive, cheat, steal, ruin, destroy, torture, and even kill, and yet still be honest? Saboteurs. When they work for your country, they are called noble spies. When they serve the interests of your country's enemy, they are called cowardly traitors or double agents. When they work for establishment, liberal media outlets, they are called kamikaze journalists.

Wait a minute. Kamikaze pilots were soldiers of Japan during wartime, not saboteurs or spies for America. Correct. Are you calling kamikaze journalists soldiers for America? No. No. No again. But this is exactly how they want us to see them, as "honest" soldiers, no matter what they do, say, or whomever they betray, hurt, emasculate, ambush, blindside, impoverish or destroy. It's conveying to the world how they see themselves that is vitally important, how they can live with themselves. Don't you see that we are being "honest" about our secular fundamentalism, our socialist hate fantasies against wealthy colonizers (who now work at Wal-mart), our rabid prejudice against Christians, "honest" about our hate-America-first-anti-capitalism, our pro-abortion-pro-amnesty-authentic-selves, "honest" about our contempt for conservatives, for gun owners, "honest" about atheism indwelling us, about how important it is that people understand the purity of our motives – if I may eavesdrop on their self-talk? This sounds a lot like narcissism to me. Is that what you're thinking?

Narcissism allows us to be degenerate without the hassle of low self-esteem. Incompetence combined with high self-esteem is the psychological equivalent of peanut butter and jelly. They go together really well. The pathology of narcissism is high self-esteem and mediocrity coexisting. Here's the problem. When you're a journalist, an actor, a football player, a plumber, a street sweeper, a trucker or a comedian, we pay you to do your job. Period. As your customers, we don't care about your opinion on global warming or the Bible, topics that you know nothing about. Your client base is trying to tell you: I don't even consult experts on gay sexuality or income inequality, so why would I enjoy hearing you blather about it?

The great danger of leprosy is the inability to feel pain on your extremities. Open sores, loss of digits and body parts go initially unnoticed. This means that you can be hurting yourself without being aware of it, a very serious condition. Narcissism is a form of shame-leprosy, an inability to feel shame even when the disfigurement is obvious to everyone else. For example, have you seen or heard a kamikaze journalist question a guest while blatantly censoring the news? When the disgusted interviewee reminds him about material facts left out of the premise of the query, he only gives a masochistic smile in response. Feeling no shame, the kamikaze journalist moves on to another topic. This insensitivity to normal pangs of shame can be explained one way: Narcissism is an arrogant alternative to shame.
​
It is this masochism of the kamikaze media, and its disloyalty to their country that differs most from the kamikaze pilots of WWII. The masochistic shame-spiral is so extreme now, that it's painful to watch. It's like viewing surgery. It makes me squirm inside to look at it. People will say doctors get used to it; to see blood and organs inside an open cavity becomes normal to them. True enough and I applaud them for their expertise.

To call yourself a journalist, and to intentionally not deliver the news as it actually happened in order to suppress the truth, would fill a normal person with shame. Censorship is dishonesty in your business, just as not disclosing to a buyer that your car has a salvage title due to an accident. Why so much contempt for "deplorables" in your audience that you will mislead them, censor important facts and keep them in the dark? To me it proves one thing: Narcissism is more contempt for others than love of self.


Slaveholders and Socialists Are
Spiritual Twins

By William Hamnet Wall
www.WilliamHamnetWall.com

The dementia of slaveholders and socialists is that their "social justice" cannot
coexist with liberty for all. Both must create victims for their economic scheme
to function. In effect, socialism is Imperialism of the left against taxpayers of a
nation. History is clear that arrogating another's wealth and private property has
always required victims to be dehumanized before being plundered.

Nothing is so beautiful that force cannot uglify it. Work becomes slavery when force is added. Sex becomes rape when force is added. Self-interest becomes greed when we oppose government expansionism. Is it any wonder that economic and religious freedoms are lost when force and mandates become law? Even so, few things are more dishonest than a false comparison: the leftist mantra that Trump is like Hitler, and Republicans are terrorists. These are sensational examples of drive-by- slander without historical basis or intellectual honesty. No one would accuse Tocqueville of being shallow or vindictive when assessing the effects of too much government intrusion, too much centralized power on the spirit, will and individualism of American citizens. Here is a quote about the dangers of big government from his masterpiece Democracy in America:
"It covers the surface of society with a network of small complicated rules, minute and uniform, through which the most original minds and the most energetic characters cannot penetrate, to rise above the crowd. The will of man is not shattered, but softened, bent, and guided; men are seldom forced by it to act, but they are constantly restrained from acting. Such a power does not destroy, but it prevents existence; it does not tyrannize, but it compresses, enervates, extinguishes, and stupefies a people, till each nation is reduced to nothing better than a flock of timid and industrious animals, of which the government is the shepherd."

You be the judge if so many similarities between slaveholders and socialists are two sides of the same pathology.

Moral Equivalence?

SLAVEHODERS SOCIALISTS
SLAVE OWNERSHIP CENTRALIZED POWER
Worker OWNED by Slaveholder Fruits of Our Labor OWNED by Government Officials
DICTATE what labor is to be done DICTATE what industries will be subsidized and which MUST FAIL through Overzealous Regulations
SLAVE is Industrial Animal TAXPAYER is Industrial Animal for PRIVATE USE for PUBLIC POLICY USE
Creates DEPENDENT CLASS Creates DEPENDENT CLASS
VIOLATE One's Physical Body VIOLATE One's Conscience through Healthcare Coverage Mandates
PHYSICAL Rape SOUL Rape
Economic Gain for Elite Slaveholders Economic Gain for Elite Politicians, Political Cronies and Donors
Group TARGETED and Group TARGETED and
DEHUMANIZED DEHUMANIZED
SLAVERY is NOT "FREE LABOR"- WELFARE is NOT "FREE MONEY"- Study Civil War Study National Debt / Unfunded Liabilities
Slaves LEGALLY Taxpayers LEGALLY
DISENFRANCHISED DISENFRANCHISED
Sponsored by Democrats in History Sponsored by Democrats Today

I learned from my time fracking in Colorado, Wyoming and North Dakota that men and women whose work requires hard physical labor often do not trust "limousine liberals". They mainly laugh at the hypocrisy of those preaching against the use of fossil fuels while jetting across the country to do so, and who personally consume more fossil fuels than a thousand people who actually toil to provide those sources of energy.

From the introduction to my book - The Joy of Fracking – A Haiku Guide to Loving Earth, Freedom and Fossil Fuels:

Tyranny is utopia for tyrants, a silk pillow on which the beneficiaries of
coercive power rest their heads. Dictators and tyrants are billionaires,
not because they create products people want to buy, but because they
siphon off the fruits of people's labor for personal gain…

If socialism worked, it wouldn't need capitalism to finance it. Politicians
are corrupt if their personal wealth grows by peddling favors to unions
or corporations. This swindle culminates in favorable legislation which benefits political cronies, but not taxpayers. Collusion between government, corrupt unions, and unethical corporate bosses is called crony capitalism—the opposite of free markets…

Without equal protection under the law, governments pillage taxpayers. Socialism is envy codified into law. Socialism, aristocratic class systems, monarchy, sharia law, caste structures, and discrimination within primitive tribes—all restrict upward mobility. When government decides, through subsidies, taxation, and wealth redistribution, who will prosper and who must fail, that old plunder-to-get-wealth paradigm is revived.

Here's some differences between slaveholders and socialists:

1. Slaves in the U.S. had no chance to vote out their Democrat Party oppressors. However, elections often occur even in socialist dictatorships. Socialist democracies use mob rule to govern, whereby only the majority and political elites have their rights protected. In this sense, democracy is a tyrant to the minority. Madison put it this way, "I believe there are more instances of the abridgment of the freedom of the people by gradual and silent encroachments of those in power than by violent and sudden usurpations."

2. They use poor people in separate ways. Slaveholders use a slave as a unit of dehumanized economic benefit, as one might employ a gas lawnmower to get the job done more efficiently. Socialists exploit the poor in a hauntingly similar pattern as pedophiles use their positions of trust for deviant reasons against children. See if you recognize in socialists the same 5 Step pattern of psychological oppression (NOT PHYSICAL) used in pedophilia:

STEP 1: First show concern for victims, advocate for them
STEP 2: Gain access to control them individually
STEP 3: Give them candy or other free benefits
STEP 4: Threaten them if they expose the abuse
STEP 5: Justify depravity as normal behavior

Can the abridgement of another's freedom be justified? Can laws be just which do not offer equal protection to all citizens? These are personal questions. Wars have tried to answer them. One's conscience knows the answer to both.

The similarities and differences between slaveholders and socialists are intriguing. We can learn not to dehumanize a human being for temporary economic benefit. We can learn to recognize these 5 Steps of domination from socialists in the past, and to anticipate the traps set by those in the present. Their care for us is pathological, not humanitarian. Look beyond their apparent concern for us—Step 1 above. Remember, there are 4 more Steps to go. Two haikus from my aforementioned book, The Joy of Fracking:

Beware the death of
Tyrants; they leave fresh poison
In the victor's cup.


Dead bees can sting us.
Dead tyrants have malign thoughts
That poison what lives.

Even socialists that claim that they're not in it for the money are dangerous.
Being corrupted by power instead of money does not make you more moral.
To be corrupted by both, makes you a monster. Hitler's socialism and racism
are two sides of the same hatred of individual liberty.




Capitalism Curbs Greed

By William Hamnet Wall www.WillliamHamnetWall.com

Kissing bugs first inject their victims with anesthesia, so drinking their blood can go
unnoticed. Socialists are the kissing bugs of society, injecting soul-numbing
entitlements into the hapless poor before leeching off their healthy pride and ambition.
Why do progressives and liberals hate capitalism? For the same reason that Democrats
of old would not educate their slaves, or even teach them to read. Self-interest is so
powerful, so large a canvass on which to paint one's dreams, so liberating, so energized
by one's natural talents and gifts that dependence on a master or government would
seem disgusting and demoralizing. In other words, capitalism gives people too much
freedom, too much self-reliance, allows self-interest to blossom into creative ventures,
and stirs the desire for individual prosperity, and autonomy.

Self-interest is the animated core of individualism, the fingerprints of soul that make
one's joy so personal, and one's talents and imagination unique. Self-interest is the
dance floor on which self-expression chooses her music, and choreographs her delights.
Capitalism is the free and competitive marketplace of self-interests vying for an audience.

Capitalism requires that the buyer and seller agree on a price. Capitalism curbs greed by
requiring mutually beneficial transactions. No matter how strong or conflicting self-interests
of buyers and sellers are, they still must agree for free markets to operate. Notice below that
whenever self-interests of two people overlap in agreement, individual greed must be kept in
check. Conversely, the greed of those exerting centralized power goes unchecked precisely
because mutual benefit is not necessary to achieve their ends.

Here is a diagram about greed of Self-Interest being restrained, from my book, The 9 Gifts of Capitalism—Why Prosperity Requires Freedom: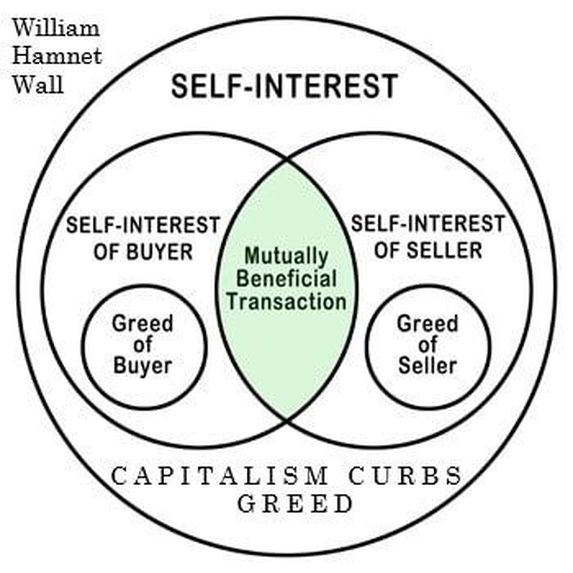 Who is greedier, the socialist or miser: the spendthrift of other people's money or a hoarder
of his own earnings? Milton Freidman once asked, "Is it really true that political self-interest is
nobler somehow than economic self-interest?" The biggest threats to socialists and dictators
are citizens who sanctify human rights as gifts from God, spiritualize self-interest, and defend
their private property with force. This is why liberals oppose free markets, and fear economic
and religious freedoms. Socialism offers more poverty and dependence; progressives' only hope
of retaining power is to hide this fact. However, every able-bodied person who is trapped on the plantation of welfare-state-poverty, hoping for a better life, praying to God for more skills and
self-respect, demoralized by the government's label of "victim", knows in his heart a simple truth:
No one attains greatness by receiving alms.

Liberal arguments against capitalism go like this: human self-interest and greed are selfish moral equivalents. Capitalism and greed must be hogtied because they hurt poor people who are saintly victims. Government needs to punish self-centered wealthy people who pursue their
dreams, inventors who employ their talents, and successful misers who hoard their own profits. Socialists claim that opportunity for all, and a level playing field, would end income inequality. Everyone would be prosperous if they had opportunity secured by government, right? Here's a
dirty little secret:

Capitalism proves that poverty is not cured by opportunity.

Every action, whether as simple as picking up a quarter on a sidewalk, writing Hamlet, or
becoming wealthy requires three ingredients:

1. OPPORTUNITY

2. DESIRE

3. ABILITY

Government cannot end poverty on the planet because it cannot mandate that everyone has
sufficient DESIRE or ABILITY to start Wal-Mart, invent the light bulb, or sing like Elvis. Capitalism
is the alchemy of competence turning into gold.

Free markets provide equal opportunity, not wealth, a choice not a cure. It may offer economic incentives to work in an industry or to learn skills which are marketable to an employer or customer.
In this sense, capitalism generates and rewards DESIRE and ABILITY in people which in turn raises
their standard of living. Capitalism is a creative force that turns ideas into objects, and into profit
if customers are motivated to act. From my book,The 9 Gifts of Capitalism—Why Prosperity Requires Freedom:

"What begins as a thought becomes a bridge across a river;
what starts as hunger pangs evokes a field of wheat…
Capitalism is the conduit from desire to form, thought to
matter, and a dream to marketplace."

This is why liberals hate capitalism: because it proves that freedom is more compassionate
than control, self-interest creates more prosperity than entitlements, that creativity is more empowering than begging. Capitalism makes it clear that government is powerless to cure
poverty. In fact, laws intruding into free markets exacerbates the problem. Overtaxing honest
toil, redistributing the fruits of labor, does nothing to reduce poverty long term, or to increase
strong DESIRE and ABILITY to become independent, creative and self-reliant. In fact, the imposition
of higher taxes, punitive regulations against businesses, and cradle-to-grave entitlements for the
poor actually reduce OPPORTUNITY.

"What government spends, is all taxation." said Milton Friedman. Even when the government prints money, it is a hidden form taxation. Wasteful spending does not grow economies. Using tax dollars
to pay someone not to work, or breaking a window to produce a job are taxpayer liabilities. I refer
here to the broken window fallacy: that a broken window (or wartime destruction) is good for an economy because it creates jobs for other people. A minute's reflection shows this to be a false conclusion. Can we get out of a recession by breaking every window in America? In the original
words of Bastiat:

"Stop there! Your theory is confined to that which is seen; it takes no account of that which is not seen…destruction
is not profit"

Put another way, money spent to fix a broken window could have been spent on shoes, food
or a thousand other more productive uses. The broken window conceals the lost opportunity
cost. As Henry Hazlitt, author of the wonderful Economics in One Lesson, said about a century
later,

"…the basic truth that the wanton destruction of anything
of real value is always a net loss, a misfortune, or a disaster…"

According to the Cato Institute, we have spent 19 trillion dollars on the War on Poverty scheme
in the last 50 years. The lost opportunity cost has been enormous! The negative effects on the
job participation rates bear this out. All three elements of Action (OPPORTUNITY, DESIRE and
ABILITY) have been stymied during this failed welfare state experiment.

Poverty is like obesity. We all have the OPPORTUNITY to eat less, the ABILITY to exercise
regularly. But we do not all have the DESIRE to lose weight. Nothing gets done without all
three ingredients. Try making a cake without adding flour or water. If every ingredient is
essential to baking a cake, how much more so in ending all poverty?








Virtue Is More To Be Feared
​Than Vice




By William Hamnet Wall


www.WilliamHamnetWall
​


Sociopath is defined as: "a person with a personality disorder manifesting itself in extreme antisocial attitudes and

behavior...a lack of conscience." There is a second path to deaden one's conscience, namely to obviate the

need for it. In other words, when we do good for others, conscience seems to become less relevant. Because we

trust our mother, we seldom bring a food tester to family dinners. In the same way, we deactivate our

conscience, when we feel our actions are virtuous. Herein lies the danger of government control or involvement in

our personal and business transactions that are legal.



Atrocities in history are committed by two types of individuals: sociopaths and by a word I'll coin virtuepaths --

people whose "good intentions", "love of truth or social justice" when helping others can justify hurting or killing

them without feeling normal pangs of conscience. There are thousands of examples in history and present times.

Hurting innocent people while defending a "right, virtue, social justice or truth"? What examples come to

​mind? Here is a very short list of eight.


1. Barbaric late term abortions without anesthesia, codified into law as a "right".

2. Legalized slavery served an "economic benefit" for plantation owners.

3. Socialist Nazi Party's holocaust billed as the "final solution".

4. Obamacare abortion coverage mandates imposed on Little Sisters of the Poor.

5. Disarming law abiding citizens for the "safety and good" of society.

6. Forced religious conversions and murders during the Inquisition and Reformation called "God's will".

7. Forced charity and "wealth redistribution" codified into law by socialism as "social justice".

8. "Affirmative Action" discriminating against certain races to "fix" past racism.


"Virtue is more to be feared than vice because its

excesses are not subject to the regulation of conscience."
Adam Smith


Sociopaths and virtuepaths deaden their conscience for different reasons. Their intent is different as well. The

result is the same: severe injury, tyranny or death to innocent people, even cultures, customs and civilizations.

Let's begin with intent. Sociopaths intend to hurt other people, take pleasure in it. Their greed, lust and fear are

fueled and/or gratified by the pain of others. Virtuepaths (people who hurt others while trying to help them) are

not sociopathic. For example, the pilgrims were brave, honest, industrious and ethical. They truly thought the

Salem Witch Trials were just and ecumenical.


Secular fundamentalists, stop cheering. This applies to you too, even more than to religious virtuepaths. Many

more millions of nanny-state socialists exist today, more anti-religion, bigoted elitists that infest liberal media and

academia than do Christians willing to commit sectarian homicide. Corrupt judges and prosecutors around the

world are more likely to commit crimes against humanity than the nuns in Calcutta. Zealots in power are often

more dangerous than the one burning on the stake.
​

The reasons for deadening conscience are varied as well. Sociopaths may be motivated by hatred. In one way,

every crime is a hate crime. Rape, killing a police officer or vandalism all spring from the rage caused by being

depraved and poisoned by a form of hatred. Name any crime, sedition or even illegal drug use, there exists

intense rebellion or anger against authority. Some virtuepaths are motivated by a limited understanding of the

bible's message of love and unity. They sincerely feel that passing God's final judgment on others is their

prerogative on earth. Other virtuepaths are driven by secular and "progressive" intolerance toward those opposing

the spread of godlessness, global socialism and the gruesome abortion holocaust.


The irony of hedonism is that it robs pleasure from life. The same paradox exists with sociopaths. The very

reason they need to actively deaden their conscience is because they don't have control over it. Because

conscience is a gift from God, a voice of reason built into our DNA, a quality that preexists our birth, no amount

of reasons to mute it, no degree of active turpitude and evil doing can extinguish it within our psyche. This is

why it is a misnomer to say that sociopaths have no conscience. Let's call conscience an internal alarm clock.

Their desire to quiet it resembles a strategy of playing loud music (impulsive acts and crimes) to drown out its

clamor. Yet at some point, however briefly, at the least convenient time, a pause in that manic music will occur,

and the alarm clock will be heard. I once saw an interview of a serial killer in prison who admitted that the

unusual response of one victim during his strangulation of her, still haunts his memory. It was a young lady who

chose not to struggle during her final moments, but just looked into his eyes. This did not fit the pattern; it was

a pause in the music, and the alarm bell jangled his conscience.
​

Though psychiatrists debate whether sociopathy has a cure, let me make a few observations about virtuepathy.

​In my view, it does not require a medical degree to make improvements in the lives of virtuepaths because they

HAVE a normal conscience that prevents sin before it happens in most cases. The capacity or power of

conscience is therefore functioning, but is just temporarily not used. When you depress the clutch pedal in your

car, it disengages the accelerator function which in this analogy is your conscience. While a sociopath's

accelerator pedal (conscience) needs repair, a virtuepath's clutch pedal is overused. The former is an organic ill,

the latter is a skill that can be learned.


Let me be clear, many of the examples above are extreme which require a sociopath to execute. I'd like to focus

on virtuepaths because we all have moments of neglecting to do what is right, or not responding to what is evil.

The reasons we give ourselves, are a form of virtuepathy—which includes helping ourselves and deadening our

conscience simultaneously. In retrospect, we see our reasons as just excuses, but at the time our self-interest

seemed to be served.


To make practical use of my observations, I will use the eight examples above as a template to show how

"helping people" that involves hurting others first is a red flag to recalibrate one's conscience. After all, the

function of conscience is to prevent sin, not punish it.


1. Barbaric late term abortions without anesthesia, codified into law as a "right".


IF YOU HAVE TO TARGET THEN DEHUMANIZE A VICTIM BEFORE YOU PROFIT FROM THEM, THAT'S A

CLUE THAT CONSCIENCE HAS BEEN DISENGAGED.


2. Legalized slavery served an "economic benefit" for plantation owners.


IF YOUR ECONOMIC MODEL REQUIRES VICTIMS, GET INTO ANOTHER LINE OF WORK.


3. Socialist Nazi Party's holocaust billed as the "final solution".
​

SEE NUMBER 1


4. Obamacare abortion coverage mandate imposed on Little Sisters of the Poor.


IF SOUL RAPE OF NUNS IS REQUIRED FOR A NEW GOVERNMENT PROGRAM TO SUCCEED, SCRAP

THE WHOLE MONSTROSITY.


5. Disarming law abiding citizens for the "safety and good" of society.


IF LAW ABIDING CITIZENS CANNOT BE TRUSTED WITH SELF-PROTECTION, THEN MAYBE THE

GOVERNMENT IS CORRUPT.


6. Forced religious conversions and murders during the Inquisition and Reformation called "God's will".
​

IF YOU KILL OTHERS IN THE GENTLE NAME OF JESUS, REWORK THE MAN-MADE PART OF YOUR

RELIGION.


7. Forced charity and wealth "redistribution" codified into law by socialism as "social justice".


SLAVEHOLDERS AND SOCIALISTS ARE SPIRITUAL TWINS BECAUSE THEY BOTH REQUIRE VICTIMS

IN THEIR BUSINESS MODELS.
​

8. "Affirmative Action" discriminating against certain races to "fix" past racism.
​

NEW RACE-BASED DISCRIMINATION CANNOT CURE OLD RACE-BASED DISCRIMINATION


​
Socialism Expands Power Inequality

By William Hamnet Wall
www.WilliamHamnetWall.com

​
We are told by progressive radicals that income inequality is a great injustice, proof positive that capitalism is evil, and that corporations run on greed as plants grow by photosynthesis. When you see Thomas Edison create whole industries, improve the lives of hundreds of millions of people, create millions of jobs all over the world, why must income inequality be part of the equation? Why should wealth or profit flow to him to a greater extent than to the rest of us? In other words, if wealth is theft, do not governments have an obligation to protect people from inventors, visionaries and free market success?

Power inequality is even worse than income inequality because people with more power can drastically affect our lives more than if they just have excess money (they don't need) in their bank accounts. People fear capitalism as though it were anarchy, yet free markets require consent before transactions occur. Which shall we fear more: voluntary actions that serve the self-interest of buyer and seller or involuntary acts that benefit political elites? The fact that socialism often morphs into dictatorships or communism is ignored.

Power inequality takes many forms, some are natural like that of a mother and child, a boss and employee or wealth gained by agreeable, mutually beneficial transactions. Others are unnatural like Moa and the sixty-five million people slaughtered in the name of his beloved communist revolution. It is involuntary power inequality that is evil, not its voluntary form. Socialistic countries threaten middle class incomes because wealth is stolen from them by overregulation, excessive taxes or by unadorned despotic imperialism. That is why Venezuela, Cuba and North Korea have primarily rich and poor classes. Socialism expands power inequality. Even socialism in Europe is taxing the middle class into submission and revolt. Many such countries are reversing course for this and other reasons.
​
​The three most relevant power inequalities to our discussion are: economic freedom, religious freedom, and freedom from government hegemony. Communism and socialism stifle all three freedoms to a larger or lesser extent. Power inequality is codified into law in both forms of tyranny. When government control grows, the power of the individual shrinks. No wonder, capitalism, freedom of religion, property and gun rights are such jugular threats to progressives.

The liberal argument goes: it's hoarding profits that makes capitalism evil. It is freedom to innovate, work 18 hours a day, follow your dream, express self-interest, produce highly desired products or services, and hope for rewards that create all of that greedy and unjust income and power inequality. It must be stopped, and the only solution is socialism or communism. So the moral arbiters of the far left stridently proclaim! On the other extreme, the no-government-right-wing loons sing the praises of anarchy which is synonymous with the law of the jungle.

Let's use farming as a metaphor for free markets. To simplify, let's say there are five parts to farming: Sowing, Husbandry, Reaping, Bringing Crops To Market, and Profit. Let's take each step separately, and reflect on which particular steps that socialists approve of and why, and which they condemn categorically.

5 Steps To Farming
​
1. SOWING. Sowing is defined as planting seeds by spreading them in arable land. Think of all of the labor and expertise involved to do this properly. When, how, where, and which seeds to plant based on principles of agronomy come to mind. Which land remains fallow, which is prepared for planting. What fertilizers are used, if any? Tilling the ground is an arduous task, particularly for those using a horse and plough.

In business, this can be the capitalization phase, securing the funding for an enterprise, logistics, office and retail space, advertising prior to opening the first store. Are there not a thousand other expenses before the first dollar is earned?

Socialist Approval? Yes. The wealthy socialist hierarchy love lavish feasts. Expensive foods must be part of their utopia. Therefore, labor of other people is necessary to plough fields and to sow seeds into the arable land. A big thumbs up from the elitist ruling class on other people risking their assets, time and effort in order to make bounteous food selections available for state dinners, and to the banquet tables of ruling party elites and bureaucrats.

2. HUSBANDRY. This refers to the frugal management of resources, the science and skill of farming aforementioned. How much water is needed, the spacing of crops, pest and weed control, weather, when to harvest are just a few concerns of farmers.

In business, this is the five year plan, a blueprint of how assets will be allocated, debts will be managed, waste avoided, how many sales will be generated and efficiency maintained during the rollout phase.

Socialist Approval? Yes and no. While employment is good, layoffs are discouraged no matter what the market conditions are of the industry, how the burden of new regulations infringe on narrow profits, or how higher taxation rates destabilize capitalization of the enterprise. Statism allows unfavorable industries to be "regulated" out of business. State favored industries can use subsidies, at taxpayer expense, to "invest" in companies which can't otherwise compete in the marketplace. Bailouts use taxpayer money to save improvident management of poorly run corporations favored by the political party in power. Bailins are the confiscation of funds from depositors' bank accounts as a windfall to government spending projects.

3. REAPING. Harvest is another word for reaping. Weather permitting, the time comes to gather the bounty of your efforts, and prepare the fruits of your labor for the marketplace. For example, potatoes have to be washed and sorted. Rocks, dirt and rotten specimens are discarded in this process so that what customers will see is a uniform, clean and desirable product. As of this writing, a five pound bag of potatoes is under four dollars. Incredible! I could not sow, tend and harvest them myself for less money.

In business, this refers to the preparation for a sales meeting, organization of the power point slides, or cutting the ribbon on a store before a single customer enters it. This refers to a completed website before it is activated, or the moment the final nail completes the new home construction. Think about how much effort, sweat and tears went into this harvest. In the case of Michael Phelps, his final practice, before his first Olympic appearance, involved over ten years of grueling effort every day, 365 days a year, (yes including Christmas Day), before the first opportunity to earn a gold medal occurred.

Socialist Approval? Yes and no. While products are good, the freedom they afford people tend to make socialism seem boring and judgmental. For example, trucks and SUVs are some of the most popular vehicles in America. Nanny state bureaucrats don't like fossil fuels, so gas guzzlers are a violation of progressive orthodoxy. It is the equivalent of witchcraft during the Puritan era. Although burning people at the stake has fallen out of favor, contempt for heretics has not. In my book of haiku called: The Joy Of Fracking – A Haiku Guide To Loving Earth, Freedom and Fossil Fuels by Frac-Hand Poet…" I included this haiku about freedom achieved by using fossil fuels:

Seeds grow where planted.
Branded cows moan through fences.
Cars are human wings.


4. BRINGING CROPS TO MARKET. This is show time! This is making the harvest available for sale. This is stocking the display counters at grocery stores with your product. Finally, the customer gets to decide if your efforts satisfy their needs. Wow. How exciting!

In business, this is the competition, the audition to dance for a Broadway show. In some cases, a virtuoso has practiced the piano for decades before auditioning for a paid gig. This is the open house where buyers assess their interest in buying your home. How exhilarating!

Socialist Approval? No. This feels too close to earning a profit. Something has gone wrong. Why do free markets offer so many choices? Why are customers deciding what they like instead of buying what government orthodoxy thinks they "should" buy? We are losing control here, says the elitist. We can tax them to death, regulate the undesirable industries out of business but we CAN'T control what Americans WANT to buy. This is a real disaster for statists, a real PR nightmare.

5. PROFIT. This is payday! These are the fruits of your labor. This is a "yes" from the customer, a vindication of your dream, your efforts and self-interest. Both self-interests of buyer and seller have been consummated in the bridal suite of free markets. You now have proof that you serve the public more than your competitor has. Congratulations! You have listened closely to what other people want and have taken a big risk to satisfy those demands.

Socialist Approval? A big NO, NO, NO! Back at the buzz kill headquarters, you are now the evil rich. You must be demonized, dehumanized and plundered. Just as you have raised your gold medal high above the platform, socialists have redistributed, redesigned your prize into hundreds of thousands of tiny gold medals for nonparticipants. As the government takes its portion of your medal from your hand as you step off the podium, it gives you a sour look, and contemptuously calls you a "racist one percenter". The shame of being extraordinary, of making a profit is now codified into liberal orthodoxy as a crime against "social justice".

​Keep in mind, every time power inequality grows politically, the income inequality gap becomes wider and systemic. Why? Because those in power become rich in corrupt political systems by controlling wealth distribution. Conversely, when private wealth grows in free enterprise systems, the standard of living for all goes up, the middle class expands, even as wealth inequality remains. In this way, income inequality becomes less relevant so long as the poor are getting richer, and thereby more powerful.



​Profit Is Spiritual

By William Hamnet Wall
www.WilliamHamnetWall.com

Coming soon...